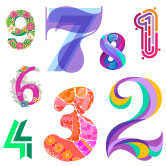 Your Sun Number in Numerology
Grab hold for greater stability

Based on the Numerology of Hans Decoz
Just like your zodiac sign comes from the month and day you were born, in Numerology, you have something called a Sun Number!
This number is also based on your month and day of birth. Depending on what the energy of your own Sun Number, your Sun Number can help:
- offer a big-picture view of who you are
- show how you handle changes
- understand other numbers in your Numerology chart that also impact long periods of your life
- tell you about the relationships you tend to gravitate toward
- identify other Sun Numbers that you could potentially get along with based on specific traits.
Dig deeper into YOUR personal Numerology by revealing your Birthday Number, Heart's Desire Number, Karmic Lessons Number, and more »
Figure out your Sun Number
Your Sun Number is easy to calculate and never changes. Simply add your month and day of birth, and reduce that number to a single digit.
For example, if you were born May 15, add 5 (for the number of the month of May) and 15, which equals 20, then reduce it to 2 (because 2 + 0=2). If you were born November 23, adding 11 (for November) and 23, is 34. Reduce 34 by adding 3 and 4 to find the Sun Number 7.
Basically, you can think of your Sun Number as your anchor, holding you steady while everything around you is in moving. So what are you waiting for?
Reveal YOUR Sun Number and learn more about your unique energy now »
Learn about the Sun Numbers: